Audio Utilities¶
The MLTK offers several utilities to aid the development of audio classification models:
The Audio Classification Utility and Audio Visualization Utility depend on the Audio Feature Generator for converting audio signals into spectrograms.
A common usecase of audio classification models is "keyword spotting".
Refer to the Keyword Spotting Overview for more details on how spectrograms are used to detect keywords in streaming audio.
Refer to the Keyword Spotting Tutorial for a complete guide on how to use the MLTK to create an audio classification ML model.
Audio Classification Utility¶
The audio classification utility is a complete keyword spotting application.
It features:
Ability to classify real-time microphone audio and print results to terminal

Support for running on an embedded device or Windows/Linux

Ability to record the microphone audio

Ability to dump spectrograms generated by the Audio Feature Generator
This utility works by executing a pre-built audio_classifier application.
The basic flow of this application is:
Microphone

 

->

 

AudioFeatureGenerator

 

->

 

ML

 

Model

 

->

 

Command

 

Recognizer

 

->

 

Local

 

Terminal



Refer to the classify_audio command's --help output for more details:
mltk

 

classify_audio

 

--help

The following are examples of using the classify_audio command:
Audio Visualization Utility¶
The Audio Visualizer Utility provides a graphical interface to the Audio Feature Generator. It allows for adjusting the various spectrogram settings and seeing how the resulting spectrogram is affected in real-time.
To use the Audio Visualizer utility, issue the command:
NOTE: Internally, this will install the wxPython Python package.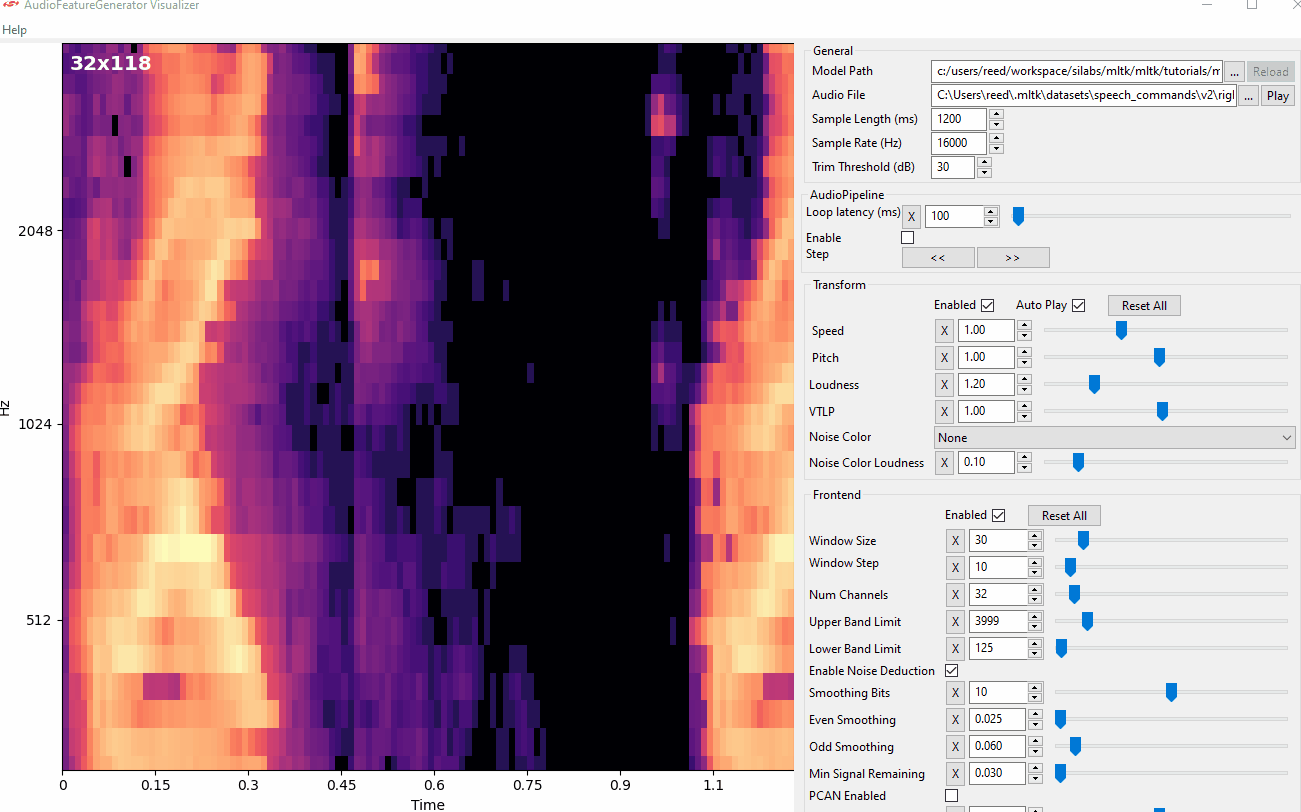 Synthetic Audio Dataset Generator¶
The MLTK features the AudioDatasetGenerator Python package. This allows for generating custom keyword audio datasets using synthetically generated data.
The dataset samples are generated using the Text-to-Speech (TTS) services provided by:
Refer to the Synthetic Audio Dataset Generation tutorial for more information.